| | | |
| --- | --- | --- |
| | 1991 Japan, teaching Zen to Japanese.... | |
De Grote Ommekeer
Uitspraken II
"The most beautiful thing we can experience is the mysterious. It's the source of all true art and science. He who knows it not and can no longer wonder,
is as good as dead"
A-Einstein
Beste vrienden,
Steeds meer mensen beseffen dat onze dagen de meest kritieke in de geschiedenis van de mensheid zijn
Het is een ego-catastrophe, de climax van eeuwen dominantie van "hebben over Zijn"
Doorslaggevend is het inzicht, dat problemen veroorzaakt door het ego niet door datzelfde ego opgelost kunnen worden. Vandaar dat onze crisis spiritueel is c.q. alleen een "hogere" dimensie kan dit, kan het ego intomen cq "vernietigen"
Het bestaan is gereduceerd tot een-dimensionaliteit
Het ego is verslaafd aan het zelf, carriere, status, macht en geld. Onze levens zijn daardoor veroordeeld to oppervlakkigheid, zinloosheid, eenzaamheid en frustratie. Het resultaat: stress, angst, chronische moeheid, depressie, burn-out en ziekte...
Een ego dat niet tot de Bron (Leegte) terugkeren kan, blaast zichzelf steeds verder op, uiteindelijk vernietigt het de aarde
We staan op een kruispunt: "hetzij het ego, of de aarde (zoals wij haar kennen) sterft"
In onze tijd hebben de problemen een zulke omvang bereikt, dat alleen de tussenkomst van de Kosmos ons nog kan redden. Waarom? Omdat het ego alleen in het Niets (Vakuum, Kosmische Baarmoeder) sterft. Het is de reden, waarom uitgerekend NU de Kosmische Moeder Zich heeft geopenbaard
De Grote Ommekeer vond plaats in 1977, toen volledig plotseling en onverwacht, en zonder enig toedoen van mijn kant,
de Kosmische Moeder mij in Haar opnam cq Haar Werkelijkheid voor mij ontsloot. Omdat Isis ooit zei: "niemand zal ooit mijn sluier oplichten", moeten er acute redenen voor Haar zijn geweest dit desondanks te doen
For the "Threefold Cosmic Realization"
Link
In de laatste 33 jaar heb ik alles gedaan om de consequenties van deze levensomverwerpende gebeurtenis te vermijden. Tevergeefs. Op het laatst had ik geen keus meer dan mij te bekennen tot mijn missie
Verheug je, na 2000 jaar van onwetendheid
Plechtig en met eerbied verkondig ik je de Openbaring van de Kosmische Moeder (De Allerhoogste Drievoudige Realisatie)
Een Nieuwe Stap in Evolutie
Link1, Link2
Zij maakte Zich bekend, niet door ideeŽn, concepten, interpretaties, beelden, verschijningen, dromen, stemmen, visioenen of zelfs ervaring, maar door Haar Oereigenste Transcendente Werkelijkheid
Het wonder
Een tijdeloze Bovennatuurlijke Gebeurtenis onthulde haar diepste Mysterie aan mij, cq bracht mij terug naar de Oorsprong van het universum
Bestaande uit
Het Absolute Niets (Vacuum, "Baarmoeder") en Haar Kosmische Dimensies van Creatie (Het Eeuwige Licht) en Vernietiging (De "Onderwereld")
Link1, Link2, Link3
2000 jaar lang beschouwde men het Licht (Verlichting) als het Ultieme. Zo is het echter niet. De "Ene God" wordt daarentegen uit gene zijde geboren ("Zoon"): uit de Donkere Bodemloze Diepte van de Kosmische Moeder. Het is het begin van een Nieuw Tijdperk
Link to new article: "Uni-Dualism"
Link
Leegte en Volheid ("Vol-Ledigheid") zijn twee kanten van dezelfde medaille
Het leidde onmiddellijk tot een fundamenteel nieuw inzicht
"Niet God schiep de wereld uit het niets, maar het Niets geeft geboorte aan zowel "God" als het universum, de laatsten voortdurend naar hun Oorsprong terugkerend"
Moeder's Openbaring aan de mensheid (1977)
Link
"Ik ben een Nihilist" krijgt plotseling een geheel nieuwe betekenis: als degene die in het diepste Levensmysterie geinitieerd is.....(is dat geen grap?)
God is Haar Lichtlichaam (eerste emanatie), terwijl het universum Haar Materiele Lichaam (tweede emanatie) is
Link
De verrassing
"Mijn" Kosmische Realisatie en wetenschappelijk onderzoek van het universum (vacuum physica, astrophysica, kosmologie) vullen elkaar aan c.q. bevestigen elkaar
Brief aan Universiteiten
Spiritualiteit en wetenschap zijn "twee kanten van dezelfde medaille"
Het Ultieme Ontwerp
Link1 Link2 Link3 Link4
Wat betekent dit voor de mensheid?
Het is het Grote Keerpunt, waarin het judeo-christelijke tijdperk* vervangen wordt door Eco-Spiritualiteit, de Eeuwige, Kosmische, "Groene", Inclusieve Traditie
* Met nadruk op "tijdperk" als historische periode, uiteraard met alle respect voor individuele Christelijke geloofsbeleving
Het is de Kern van mijn Kosmische Teaching
THE ORIGINAL TRADITION
of the
UNIVERSAL COSMIC MOTHER
The New World Religion?
("The Original Tradition")
Link1, Link2, Link3, Link4, Link5, Link6, Link7, Link8
Book(Story) based or Cosmic(Reality) based religion,
that is the question
What are people (soldiers) calling for in their moment of death? Right: for their mother. It proves that our deepest connection is with the Mother
The Cosmic Mother is All-Embracing, including everything and all unconditionally
Maternal love is the most beautiful thing both on earth
as in the Cosmos
See: "Mother Love"
Dus, wat is de "Moeder", het nieuwe eenheids-wereldbeeld, zich baserend op een kosmisch perspectief?
Zie ook: Link

Zelf-, God- en Wereldbeeld zijn voor altijd veranderd
Inzicht in de ononderbroken Regeneratiekracht van de Kosmos helpt ons bij de transformatie van mens en samenleving, om zo "een Nieuwe Hemel en een Nieuwe Aarde" te bewerkstelligen
Highly recommended
The best book, ever written, about the Inner Way is Evelyn Underhill's "Mysticism" (1911)
Despite the fact, that it is written from a Western (Christian, in fact Neo-Platonic) perspective and doesn't include the Cosmic Mother


Link
Belangrijke kanttekening
Sommigen zouden kunnen denken, dat de Kosmische Moeder een "feministisch projekt" is. Dat is echter Łberhaupt niet het geval.
De Kosmische Moeder is de Ultieme Werkelijkheid en aan gene zijde van alle wereldlijke projecties, conditioneringen, categorieen, belangen, concepten en ideeen.
Unfortunately, it were the feminists who projected their desires, frustrations (very understandably, by the way, considering the millennia of oppression), ambitions, ideals into the Cosmic Mother. Through them the world got a totally wrong idea about who (what) the Mother REALLY is. Moreover, they claimed the Mother to be an exclusively feminist affair. Which only shows their ignorance in this regard. For the Essence of the Mother is, that She is All-Embracing, nobody and nothing excluded.
Voor commentaar, zie Link
Europa aan zijn eind?
Klik: Leve de
Granzheitliche Transformation! (Duits)
Manifest voor de 21.eeuw
"When a man after long years of searching chances on a thought which discloses something of the beauty of this mysterious universe, he should not therefore be personally celebrated. He is already sufficiently paid by
his experience of searching and finding"
A.Einstein
See also:
Twelve Religions
Link
Mijn kernteaching
BEN JE NIETS (LEEG)
BEN JE ALLES
"I was sitting in a chair when all of a sudden a thought occurred to me: If a person falls freely he will not feel his own weight. I was startled. This simple thought made a deep impression on me. It impelled me toward a theory of gravitation"
A-Einstein
Optimaal leven
De enige weg om de toenemende komplexiteiten van het moderne leven meester te worden, is leeg te zijn
De enige weg om met problemen, leed, zorgen om te gaan, is leeg te zijn
De enige weg om verandering, crisis, chaos en ontbering te overleven, is leeg te zijn
De enige weg om stabiliteit, zekerheid en duurzaamheid te realiseren, is leeg te zijn
De enige weg om verslaving aan het zelf (ego) te overwinnen, is leeg te zijn
De enige weg om de heelheid van het leven, gerechtigheid, vrede en harmonie met de natuur te herstellen, is leeg te zijn
De enige weg om de wereld te omarmen en lief te hebben, is leeg te zijn
De enige weg om met wijsheid, vreugde, mededogen en kracht overstroomd te worden, is leeg te zijn
De Leegte: Vat van Overvloed, Vernieuwing en Regeneratie
En de mensen zeiden tot de Groene Man: "leer ons de Leegte!"
De Nederlandse taal heeft er een prachtig woord voor: "Vol-Ledigheid"
Verlang naar de Leegte!
Two minutes Eternity....
Watch Video
Behoort U ook tot de massa van prestatie,
consumptie en virtueel verslaafden?
Vraagt de Groene Man hoe het anders kan!
The Oracle is an answer to our critical times with its fear, insecurity,
confusion, despair.....offering hope, insight, support, strength
KOSMISCHE VERNIEUWING
Afsterven van het ego en wedergeboorte van je innerlijke goddelijke Vonk
Beste vriendinnen,
Erken je frustraties, je pijn en ongeluk, samen met je verlangen naar Heelheid. Wordt enthousiast. Laat alles los en zet je alleen nog in voor dit ene doel
Moge het vuur van enthousiasme een Nieuwe Dimensie in je leven openen
Geef je ego op en je wordt vernieuwd, geregenereerd en genezen, daarbij berust alles op verlangen, inzicht, vertrouwen en overgave
Het is gebaseerd op het begrijpen van "hoe de Kosmos werkt". Alles - het Goddelijke en het universum - verdwijnt ononderbroken in de Bodemloze Diepte van het Vakuum (Baarmoeder), terwijl het IN HETZELFDE MOMENT opnieuw geboren wordt
Onze genezing berust op de bewuste cooperatier met de Moeder!
Door Haar Bodemloze Leegte neemt Zij al het oude, zieke, schadelijke, boze (o.a. hebzucht) terug, terwijl Zij geboorte geeft aan het nieuwe, gezonde, goede en nuttige, en zo de balans herstelt
Het is de Essentie van Haar Groot Reddingswerk
Wat betekent het voor ieder persoonlijk?
Neem toevlucht tot Haar en Zij neemt alles - al je stress, pijn, zorgen, problemen, woede, angst, burn-out, ziekte - alles wat je bedrukt, van je af
Niets in de Hemel of op aarde kan Haar evenaren
Haar Kracht is Heel Reeel. Probeer het uit! Voor hetv slapengaan stem je je af op de duisternis om je heen, alles op een zeer ontspannen en heldere wijze. Neem het waar terwijl je tegelijkertijd fluistert "alstublieft Moeder, neem deze......van mij weg. Vervolgens visualiseer je dat je.......door de Bodemloze Duisternis wordt geabsorbeerd.....
"Wij allen leven in Absolute Geborgenheid"
Of je het gelooft of niet
Link1 "Mother Love" , Link2 "Mother Blog"

Vroeger of later kom je tot het punt, waarop je de Moeder vertrouwt. Het is het moment, waarop je je aan Haar echt overgeeft. Dit is de betekenis van "gered worden". Je "doet" het door bewust te fluisteren "sterven" (met voelen van je uitademing) en "opnieuw geboren worden" (met voelen van je inademing), elke dag, elk uur, elke minuut....
"Sterven van het ego" betekent innerlijke transformatie, waarin zelfzucht wordt omgezet in het dienen van het Geheel
Een ieder die naar de Oorsprong verlangt om daar vernieuwd te worden wordt een "Oorspronkelijke" genoemd
Sluit je aan bij de Gemeenschap van Originals!
Deel van het Geheel zijn
Herstel van Heelheid
Heeft ons Ware Zelf zich eenmaal gevestigd, worden we weer deel van het Geheel: "Hemel, aarde en de (nieuwe) gemeenschap"


Ook: "Existentieel Bewustzijn" genoemd
Iedereen en alles - mensen, dieren, planten, rotsen, oceanen, rivieren, wolken - is deel van "Hemel, aarde en de (nieuwe) gemeenschap"
Deze zijn de universele waarden die alle mensen op aarde verbinden, het fundament voor vrede, gerechtigheid, menswaardigheid en harmonie met de natuur
Sleutelpagina's: Link1, Link2
Daarom is het Existentieel Bewustzijn het fundament van "One World Community"
Imagine: all people on earth subscribe to this principle - something I think is a very realistic one - if so, then we have found the fundamentals of a meaning and etrhics-oriented world order e.g. a turning point has been achieved, upon which all further steps in the direction of a world community can be realised
Link1

"Tenzij er een spirituele renaissance plaatsvindt, zal de wereld geen vrede kennen"
Dag HammarskjŲld, Secretary-General of the United Nations (1953-1961)
Wij alle zijn uitgenodigd om zijn oproep te volgen!
Link
Deel van het Geheel (c.q. het Geheel) zijn is het doel van het leven, de Bron van ultieme vervulling, wijsheid, vreugde, innerlijke balans, kracht, mededogen...en engagement
Hoe meer het leven is geworteld in Zijn, des te minder verslaving aan het hebben
"Bent U een Nieuwe Mens?"
Koningin Wilhelmina
1880-1962
Concentrische cirkels trekken
Het is de impuls voor de Transformatie c.q. Balans op alle niveau's van het bestaan:
Groene Spiritualiteit, Groene Politiek, Groene Economie
In deze volgorde
Link (Duits)
Mensen geven alleen iets op als zij er iets beters voor terugkrijgen. Heb je het "goede leven" bereikt, zeg dan "genoeg is genoeg"
Meer, meer en meer is waanzin.....:
Door spiritueel leven - Zijn - komt de nadruk op de kwaliteit van het leven te liggen: zin, vreugde, verbondenheid, vriendschap
Het is als in de liefde. Als je iemand ten diepste liefhebt, dan ben je niet aan ophoping van dingen geinteresseerd
Alleen door Zijn geven mensen het hebben op, vandaar dat de kern van de huidige crisis spiritueel is
Ik heb een Visioen! Dat zeer spoedig Zijnsmensen het initiatief nemen, en nieuwe strukturen van wederzijdse hulp, liefde en commitment creŽren. De laatsten zullen de eersten zijn...
Link
Onze Missie:
Kosmische Moeder
Healing the Planet
(Geneest ons, geneest de samenleving, geneest de aarde) in 10 stappen
A New Cosmology
A New Spirituality
A New Ethics
A New Economy
A New Health Care
A New Society
A New Woman/Man
A New Education
A New Earth
A New Vision
Link1, Link2, Link3
Alles in Naam van de Kosmische Moeder
"I believe in Spinoza's God., Who reveals Himself in the lawful harmony of the world, not in a God who concerns himself with the fate and the doings of mankind"
A-Einstein
| | | |
| --- | --- | --- |
| | Terug naar de wortels | |
"Imagination is more important than knowledge. For knowledge is limited, whereas imagination embraces the entire world, stimulating progress, giving birth to evolution. It is, strictly speaking, a real factor in scientific research"
A-Einstein
ENGAGEMENT
Voor diegenen die schoongenoeg hebben van hun ego en naar een nieuw leven verlangen
Groene Man Is Terug!
Blijvende helderheid, zin, vreugde, vrede, genezing, is alleen in de Oorsprong te vinden....alleen daar
Basisprogramma:
Kosmische Moeder
HEALING THE PLANET
"Te Beginnen bij jeZelf"
Weekendprogramma
met
"DE GROENE MAN"
en MEIMEI
Donderdagavond
ORAKEL
Introductie "Ken jeZelf" met Q&A sessie

Vrijdag
TOEVLUCHT NEMEN
Terug naar de Oorsprong om daar vernieuwd te worden. Met Contemplatie, Hemel & Aarde Oefeningen en meer
Zaterdag
MOEDER HEALING
Voor allen die pijn lijden:
spiritueel, emotioneel, lichamelijk
Zondag
TALK
Spiritual Service, Health Service, Community Service, Earth Service
Door de week
Spiritueel (Kosmisch) Consult
Kostenloos Persoonlijk Gezondheidsplan
Stenen Tijdperk Therapie voor de Moderne Mens
(Guasha Regeneratie)
Aanvullende Mogelijkheden:
He claims to know the Solution
to the World Crisis



Cosmic Mother
HEALING THE PLANET
She is healing us, She is healing society, She is healing the earth
Themes:
In these most critical of times
Can we still be saved?
The ego as the cause of all suffering
The Revelation of the Cosmic Mother
What/Who is She?
How is She healing the world?
Giving up your ego
Her hopefuls:
Green Men & Wise Women
Q&A
Introduction into Eco-Spirituality, Meetings,
Talks, Teachings
Cosmic Mother
ORACLE
1. Introductie
"Ken jezelf"
2. Questions & Answers from Her Bottomless Depth
Come with all your problems, worries, fears, stress, burn-out, longings, hopes...
See poster above
Taking Refuge
MOTHER WORSHIP
Eco-Spiritual Experience
Contemplation, Teaching, Mother Healing, Heaven & Earth Exercises ("Sanctifying nature"/Tiendi Qigong), Q&A and Celebration
Contact us for details
Link1, Link2 Link3 Link
Cosmic Mother
HEALING
Inviting all those suffering from pain
Spiritually, emotionally, physically
Nothing...in the world can match Her Healing Power, coming directly from the Cosmic Source
Including Free Personal Health Plan & the unique "Stone Age (Primordial) Therapy for Modern (Wo)Man".
See: "Chinese Guasha Regeneration Therapy"
www.vitalworld.org www.meihan-guasha.nl
Cosmic Mother
HEALING COMMUNITIES
Joining Healing Communities is a great opportunity for those who strive for spiritual excellence, e.g. giving perspective and meaning of life, while preparing you for leadership for a New World, everything based on three pillars: Surrender to the Cosmic Mother, a daily "monastic" schedule and serving others
Link1, Link2
"Green University"
TRANSFORMATORIUM
Once in a while we improvise the "International Center for Spirituality, Health and Ecology", rotating between Europe, the Americas, Asia
Our Goal:
Training of Green Men & Wise Women
Discover your GreenSpirit
Be honest. A worldly career sooner or (not so much) later ends with disillusionment, frustration and burn-out. How painful after so many years of effort!!! Therefore, go for the Truth. It will NEVER disappoint you.
I offer you a "spiritual career" with Spiritual Service, Health Service, Community Service and Earth Service
As an "Original" you become a guide to others. Subsequently, we help you in developing your skills as leaders, healers and teachers. Become a Hopeful to A New World!


Link

Cosmic Mother
ECO-SPIRITUAL RETREATS
In 1989 I did some effort to organize "Health Holidays". Shortly after I spent one year in Japan and one year in HongKong. These memories never left me. So, once again, I want to pick up the same idea. Only the topic has slightly changed. Spiritual Healing will be the basics, combined with visits to nature parks and sacred places (temples). Our favorite destination is Asia. Upon request emphasis can be laid on the Wilderness Teaching or/and the Great Night Initiation (see below)
For more information, please contact us.
Link "Eco-Spiritual Retreats"
Eco-spiritual
Cosmic Mother
WILDERNESS TEACHING
Green Man's eco-spirituality initiative!
There is no better place on earth to experience inner Renewal and Transformation than Mother's Wilderness


For practical info, click Link
While most groups emphasize "personal Vision Quest" (often psycho-therapeutic oriented), we, on the other hand, are Cosmic inspired, giving up the ego in order to become One with the Whole, once again, eventually returning home as a truly New (Wo)Man.


See also "Green Men & Wise Women Pilgrim Network"
Cosmic Mother
GREAT NIGHT INITIATION
To give up your ego through taking refuge in the Original Darkness. Birth of the (inner) Light, subsequently restoring the Wholeness of Life, integrating all levels of existence. To become an Original!
Link

Aanvullend
Zoek je oprecht innerlijke (en uiterlijke) transformatie? Groene Man ondersteunt je!
Maak een afspraak voor Persoonlijke "Kosmische" Begeleiding
Je kunt met je meest dringende vragen naar hem toekomen
Zijn (unieke) antwoorden komen uit zijn bodemloze Diepte:
Oorspronkelijk, bevrijdend, verlichtend, verdiepend, genezend
Welkom

Voor info
Zie "Contact us"
"Only a life lived for others makes a life worthwhile"
A-Einstein
| | | |
| --- | --- | --- |
| | 2008 Bezoek aan de Maya's, Mexico | |
PREPARING THE COMING OF
A NEW WORLD RELIGION
Don't we experience the rapid disintegration of society?
Events speeding up at incredible pace, the global threat of climate change e.g. natural disasters, the end of the patriarchal era; the "death of the Old God"; the awakening of oppressed peoples and the synchronicity of prophecies e.g. the heightened awareness around the world
The signs of the Great Turning Point are overwhelming
A highly "explosive" mixture is being brewed. It is the Universal Mother - the Supreme Ultimate Reality - who will bring about the Transformation - destruction of the old and birth of the New - the world is direly waiting for
World Crisis * World Religion * One World Community
Universal Teaching
Ego - to have as the inability to Be - is our basic suffering
To become part of the Whole, once again, is the ultimate healing
"We are part of the earth
The earth is part of the universe
The universe is part of the Divine
The Divine is part of the Cosmic Mother"
Mission of the World Religion is to help you discover/develop your inherent Universal Mind*, to the benefit of all and everything
* Also called Maitreya or Parsival Mind
Link
What can you do yourself?
Go within and discover your True Being. Start resonating with your surroundings in a very subtle way. Until you will be on one wavelength with existence. Let wisdom, joy, love and strength penetrate everything and all
Zie ook:
"Grote Moeder Boeddhisme"
The Maitreya (e.g. Parsival) Mind of the awakened Hopefuls creates an irresistable wave of expectation, enthusiasm and empowerment around the globe
Indeed, A New Great Cycle of Renewal, in which (wo)mankind will become part of the Whole - Heaven, earth and the (new) community - once again.
Prepare yourself...
BREAKING NEWS
(To the international media)
Click the


link
to "A New World Religion"
After many years of hesitation a "New Universal Teacher"* (CultuurVernieuwing) has stand up
* Servant to the Universal Mother
"Green Man" or "Laughing Buddha" claims to have found the solution to the World Crisis
The root cause of the World Crisis is spiritual, he says
Through clinging to our ego's the Original Wholeness has been lost
It is worse: ego has blown itself up, to such an extent that it destroys the whole world
Cause:
"To have as the inability to Be"
The only justification for a religion to exist is whether it curbs the ego, yes or no
As we all know, the historic religions have all dramatically failed in this regard
Nowadays, a global ego thus asks for a global answer: the founding of A Cosmic Religion
The Turning Point is the Revelation of the Cosmic Mother
She is the "Cauldron of Renewal", also called "Holy Grail"
Through Her the decay will be turned into Regeneration on all levels of existence
Green Man is the only one who has experienced the Full (Empty!) Reality of the Mother
See also:
Bede Griffiths on the Mother
His Mission: "Healing the Planet", te beginnen bij jezelf
With Eco-Spirituality as a major tool to lay the foundation for "A New Heaven and A New Earth", leading to peace, justice and sustainability for all
Therefore support his initiative
He comes to all interested groups e.g. environmental organizations, regional initiatives, peace groups, women organizations, universities (e.g. ecology & environmental studies, religious studies, physics & cosmology, peace studies, women studies), religious organizations, governments, EU, UN....
Let him come to your city, town, organize a meeting e.g. a talk!
We like to hear from you!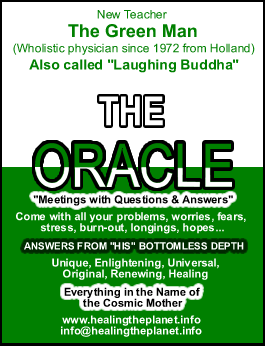 AGENDA!
2013/14
Click!
Meetings, Talks, Teachings of the Green Man for everyone
Overview of current places, times etc.
Green Man goes where the need is

"Wilderness Teaching"
He could stay with you for days, weeks, months
Grateful for every simple facility
You determine yourself how many steps (of the programme) you want to make
Programmes are for free or/and on donation basis*
Don't miss this great opportunity!
* Professional and business organizations will be asked a fee
Independent, non-denominational and non-commercial initiative