Book Review

THE DISCOVERIES
of Han M. Stiekema, MD

FLOW SYSTEM THERAPY
(The medicine for the 21st century)
ISBN 90-70525-32-2. 216 p., 6 diagrams, 10 illustr.,
PIP Press,1999, Amsterdam, NL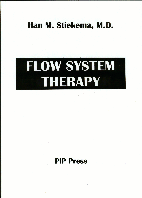 Health and "civilization-related" (chronic) disease have a common denominator called "flow system",


It can be defined as the dynamic equilibrium between input, processing and output of nutrients, oxygen, water, waste products and toxins respectively,


Input, processing and output can be divided in seven stages: agriculture/nutrition, digestion, blood circulation, combustion, assimilation, detoxification and elimination,


Through causes from within and without most people suffer from imbalance of these basic functions, with "secondary disorders" as a consequence,


Rather than treating "specific diseases", examination, diagnosis and treatment of these basic metabolic functions will lead to optimal wellness,


The flow system: surprising new insights, a wealth of effective practices.
WITH NEW PROSPECTS OF WELLNESS AND CURE FOR EVERYONE

Medical system theory as its scientific foundation,


Science, medicine, psychology, spirituality, the environment and society are intimately connected,


MESS: Multi Etiological Sumtotal Syndrome as the revolutionary etiological model for civilization/technology related disorders,


Effective preventive and therapeutic solutions to the large-scale threats of so-called "new risks": the sumtotal of allergy, ME, OPS, RSI, EMF, fibromyalgia, immune-deficiencies and countless others,


The New Health Care based on three concentric circles ("echelons") of Self Care, Holistic and Technological Medicine,


Fundamental solutions to the key problems of health care: enormous cost reductions, a health rather than disease oriented system, new options for health insurance's, attractive conditions for health care workers and reduction of absence through illness,


Effective solutions to the health problems of the "Third World".
AN INDISPENSABLE HANDBOOK FOR THE FAMILY AND THE COMMUNITY

Taking your health in your own hands,


The availability of a simple, effective, cheap and comprehensible health care system with 200 self help techniques,


The prospect of optimizing health, with "automatic" improvement of chronic disease (e.g. cancer) for which the existing health care has no adequate solutions,


Optimal wellbeing for all people


Support for organic agriculture and nature conservation projects worldwide,


To considerably reduce the costs of health insurance premiums,


Large scale health education in the community, the schools, of new style Basic Health Consultants, professional training's and universities,


The aim: a healthy mind in a healthy body in a healthy society.
HOW TO ORDER
Han M.Stiekema, M.D. "FLOW SYSTEM THERAPY", ISBN 90-70525-32-2. 1999 PIP Press, Amsterdam, 216 pag., 6 diagrams, 10 illustrations, 200 self-help techniques. We will send you a book after having received your international postal check with € (Euro) 35 (for the EU and outside incl. postage) or direct transfer to bank account ABN/AMRO BIC: ABNANL 2A, IBAN NL 16ABNA0562330127 (for Holland just 56.23.30.127) of H. P.J.M. Stiekema, Deurloostraat 128, NL-1078 JK Amsterdam, The Netherlands with mentioning of FST, the number of books (to be paid accordingly), your name, address, zipcode, town/city/state, country and e-mail. Depending on the country you live in, the mailing of the book may take one to six weeks. (We will give discounts on larger numbers). "Flow System Therapy" is only available via mail-order, not via the bookstore (or pay through Western Union, see above).
© 1994 - 2000 Copyright by Han M. Stiekema. All rights reserved.
Our FreeWHC is for non-profit purposes only. It may not be used for any personal profit or commercial gain. No part of our program may be published in any form, by print, photoprint, microfilm or any other means without written permission of the author.
Last update: 12/02/06